Using Project5's Pattern Creation Tools
Last updated on 4/11/2016
This tech tip will introduce you to parameter automation using Project5's pattern creation tools. When working with Project5 it is important to remember that the pattern based architecture applies to:
Note sequences
Synth parameters
Effects settings
MIDI controllers
Track parameters
In Project5 patterns are created and manipulated in P-SEQ. But before you can begin creating any patterns, you must first insert a synth into the project. To do this click the ADD button on the top left corner of the arrange pane.

For this example, choose PSYN.
For maximum effect, select a sharp sounding preset like patch number A30 Ibiza 5.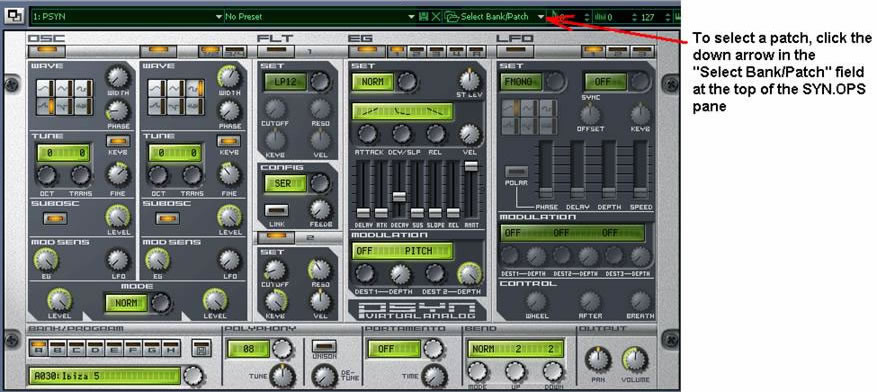 Next, right-click the arrange pane on track one and go to "DISK".

Click on one of the bass patterns like "Bass 14".
At this point you can preview the pattern by clicking the play button in P-SEQ. Hit the play button again (which is now actually a pause button) to stop the pattern.
Now for a little parameter automation!

In P-SEQ, to the left of the vertical keyboard, are the AUTOMATION EDIT MENUS. Click on the DXi menu, and go down to the section "Filter 1 on/off - Eg1 Start Level".
Click on Filter 2 Cutoff.
At the top of P-SEQ click the Automation Tool icon.
Now you are ready to draw an automation pattern, which will be controlling the cut-off frequency for filter # 2 in PSYN. You can draw any kind of curve you'd like, but I would suggest starting with a simple sweep. For example, start the pattern real low, bringing the level up high towards the middle, and then back down again at the end. When you are ready, hit play land listen to your synth parameter automation. Feel free to experiment with other parameters in addition to the filter cutoff setting.