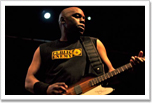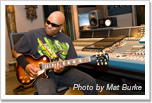 Brian Hardgroove
Santa Fe, NM ~PRODUCER, MULTI-INSTRUMENTALIST, PUBLIC ENEMY
Not to be defined by any single ability (bassist, guitarist, drummer, songwriter, record producer, band leader and educator), Brian Hardgroove is a seasoned professional and a sought after talent among some of music's most respected figures. Hardgroove, who has been using SONAR exclusively now for years after working with just about every DAW out there, sites Eddie Kramer (Jimi Hendrix, Led Zeppelin, Kiss) Jack Douglas (Aerosmith, John Lennon, Cheap Trick) as two of his closest and most trusted advisors in the music business. He has been able to utilize their shared knowledge to successfully craft an extremely unique production and performing career for himself over the years.
The new Sonar is better on all levels: features, stability, and content. The updates are sort of like a mini-Christmas every month, and the core program just keeps getting tighter. I've been through just about every DAW. Once I got into SONAR Platinum I felt like I was finally home.
As bassist/bandleader of the legendary rap group Public Enemy, Hardgroove has traveled the world in search of new and exciting artistic ventures. Producing records for two of the biggest punk bands in China (Demerit and Brain Failure), are just a few of Hardgroove's recent international music endeavors.
After coming off the past few years where he had signed on as the "Artist in Residence" at Santa Fe University of Art and Design, his time and energy is now focused on a few new projects?one with Stuart Copeland (The Police,) and another with Fred Schneider (The B-52s).
For more information visit http://www.hardgroove.com