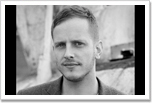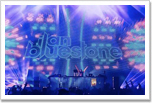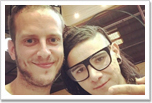 Ilan Bluestone
London, U.K. ~ELECTRONIC MUSIC PRODUCER, SONGWRITER, MIXER
There is a new breed of DJ's emerging, and U.K. native iLan Bluestone is leading the pack. This new insurgence is fueled more by raw talent rather than the button-pushing antics for which some DJ's have been scrutinized. Musicianship, song-structure, production, arrangement and mixing are now all part of the game with these super-DJ's who have the skills to bring it all together.
I use SONAR because it allows me to sound different than everyone else in the EDM world using the same thing. Its stability, workflow-speed and sound engine are unmatched in any other DAW.
SONAR has been at the heart of iLan's career for over 10 years now. Hailing from the town of Borehamwood just north of London, he taught himself guitar and piano at a young age and took his time developing his sound. "I think it takes a while to figure out your sound and what you're good at," iLan told us while visiting his home studio in the U.K. "A lot of artists get really close to finding their own sound, but then for one reason or another things don't seem to connect. It takes a lot of dedication and patience to really develop as an artist these days, especially in the EDM world."
These words of wisdom seem to have a lot of weight behind them considering iLan's recent sonic-trajectory. On Beatportalone, he has seen the Top Ten Trance chart over 12 times including eight #1 tracks. He has also graced Billboard Charts and is literally the only U.K. artist to go from his bedroom production suite to a recent sold out show at Madison Square Garden [supporting Above & Beyond]. From Asia and Australia, to Ireland and the USA, iLan's globetrotting efforts in the Trance world are really starting to pay off.
"One of the main reasons why I use SONAR is for the fast workflow. I can work so quickly in SONAR and get songs out fast which is really part of the game today." As the quickness of the workflow is part of the game for iLan, so is the sound quality of the SONAR engine. The EDM world now has many different dimensions to it. Not only does an artists have to have the skillset to write great material, but what's also needed are the tools to create music that translates from one sound experience [system] to another.
The frequency range in EDM encompasses a wide array, so the treble spectrum has to be crystal clear while the lows have to be tight and punchy at the end of the day. "The sound engine in SONAR is like no other," iLan tells us. "I've heard and tried them all, and it just has something to it that no other engine has. My mixes really translate well to the clubs too, and I have people commenting on how clear my tracks are without being too high-end-y; the engine is just fantastic."
For more information visit http://www.ilanbluestone.com/