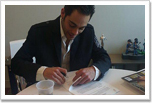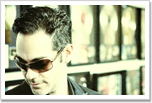 Luigie Gonzalez
Los Angeles, CA ~PRODUCER, SONGWRITER, MIXER, MUSICIAN
Grammy-nominated LA based producer/songwriter/mixer/musician Luigie "LUGO" Gonzalez has had quite a career for himself so far, especially on the international front. After recently signing a publishing deal with Pier Music, he has been working with many major label and independent artists around the world which included a Billboard Top Ten chart placement with the EMI/SONY artist Veronica Jensen along with other placements.
SONAR is my secret weapon, and the things I can do in this DAW really allow me to get my own sound.
He is truly a writer and producer of all musical genres – working with artists ranging from Barbara Streisand to Christopher Von Uckermann to Madonna to Jimmy Jam & Terry Lewis and Janet Jackson. Using SONAR and known for producing and engineering every song that he writes, Luigie seamlessly crosses the boundaries between Pop, Dance and Latin, always creating a distinctive "song and sound" that is both recognized and respected by the music community worldwide.
After studying production and orchestration at the National Conservatory of Mexico and later at Berklee College of Music in Boston, MA Luigie was offered the opportunity to relocate to Los Angeles and produce for the legendary singer/songwriter Juan Gabriel. His production effort led to one of Juan Gabriel's singles, "Abrazame Muy Fuerte," charting on Billboard and also resulting in an American Grammy nomination for Best Latin Pop Album of the Year.
"When I walk into sessions with my SONAR machine I hear 'what is THAT' a lot from other producers and artists. And then like clockwork, I hear a lot of 'whoa' and 'wow' when they see what I can do beyond their limitations. I'll never forget Jimmy Jam being blown away once in a studio when I started getting my sounds going in SONAR – that was a pretty cool feeling because he could see and hear what made my **** sound different from other producers on the scene at that time."
For more information visit http://www.lugomusic.com/