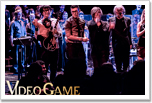 VGO
Boston, MA ~COMPOSERS,PRODUCERS, ARRANGERS
If you are not familiar with VGO, they are best described as a genre-bending blend of rock and classical music, taking aim at video game music. At first, Creator/Producer Shota Nakama's intentions with the group were to simply introduce interesting and fresh new ideas to the video game world through classical music arrangements while also combining a rock aspect ["Rockestral"].
For my work with Video Game Orchestra [Falk Au Yeong], I depend on SONAR for its stability, blazing efficiency and power.
Fast forward 7 years later to what has transpired from a live performance to now also the studio, VGO has transpired into a world-renown machine in demand with international accolades, and a worthy example of what can happen with a good idea, raw talent and hard work. On the recording side of the coin, Shota's SoundrRecBoston is now well known as a powerhouse music-spot for video games and film. With credits in Final Fantasy XV, TALES OF ZESTIRIA, God Eater 2 and Kingdom Hearts,SoundtRecBoston is quickly making a name for itself in the gaming world.
Falk Au Yeong, who is the mastermind engineer behind VGO relies on SONAR for its speed, power, and portability. In a recent MIX Magazine interview he stated, "My main work rig at home consists of a pair of PCs running in tandem." He went on to say, "I have a small collection of microphones as well as Aural Sonic portable audio treatment panels used to set up my space for whenever small-scale tracking is required. Part of the reason my setup is lightweight is so that it can also be carted around. We've taken this rig to track stuff, run a multiple-output backing tracks/clicks/video solution for live concerts, and even for mixing sessions."
For more information visit http://vgo-online.com/