SONAR 2017.02 Update: Fixes and Enhancements
Last updated on 3/6/2017
The SONAR 2017.02 update includes the following:
How to Download the SONAR 2017.02 Update
Open Cakewalk Command Center. If you don't have the latest installer, Command Center will prompt you to download and install it. Cakewalk highly recommends that you do this. (Also remember that you can always download the latest version from the Cakewalk Command Center page.)
Update SONAR Core by selecting SONAR Platinum/Professional/Artist, then clicking Install.
Update SONAR Local Documentation by selecting it, then clicking Install
Comping Enhancements
Artist, Professional, Platinum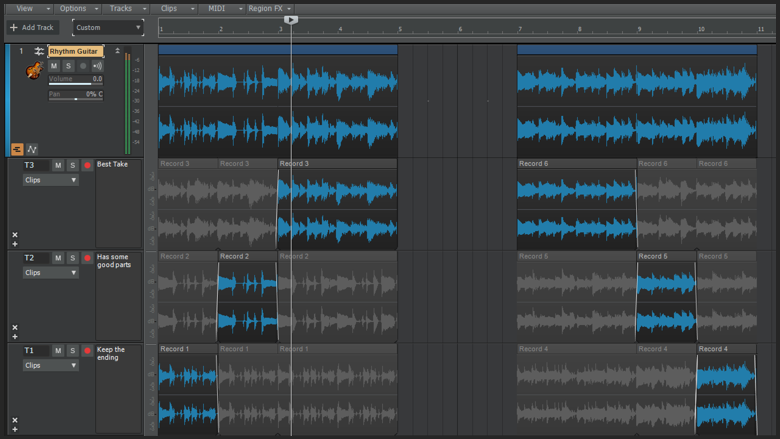 Reuse existing Take lanes when recording
SONAR will now place newly recorded clips into existing Take lanes during loop recording or whenever possible. The result is that less lanes are created and tracks with lots of recorded clips when loop recording will have less lanes to manage.
Improved lane resizing
When resizing the height of Take lanes, the clicked lane will now anchored to its current position, ensuring the lane is always visible. This make working on Tracks with many Take lanes easier to manage and feels more intuitive.
Muted Take lanes are hidden in parent track when collapsed
When Take lanes are collapsed, any muted Take lanes are no longer shown in the parent track strip. This only applies to muted Take lanes, not muted clips. This provides a cleaner UI and lets you focus on just the clips that are audible.
Maximize / Restore lanes
Similar to track strips, you can now double-click a Take lane or Automation lane strip background to maximize/restore the lane
Additional Comping Improvements:
Recording, stopping, resuming recording is now sample accurate
Comping with the Smart Tool is now clearly delineated by the middle point of the clip
Cursors no longer get incorrectly changed if the Help Module is open
When comping with Melodyne, cropping clips now updates the ARA regions
Fixed an issue where fades sometimes appeared on muted clips
SONAR Fixes and Enhancements
Artist, Professional, Platinum
MIDI Port assignments are now saved with the project and will map to the same device on another machine
Resolved a possible crash when Auto-deleting synths via Track-delete
Auditioning with Note Chase plays notes from excluded clips
Custom names of VSTs not saved
Browser Notes do not allow to tab between fields
Loop recording in different sections resulted in many additional Take lanes
Muted takes are displayed in collapsed track
View Scrolls Away When Zooming or Enlarging Lanes
View wasn't correctly scrolling when Maximizing Track or Bus Strips.