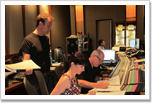 Sean Murray
Los Angeles, CA ~COMPOSER, PRODUCER FOR GAMES, FILM AND TV
I have a seamless relationship with SONAR that truly enhances my creative spirit
Sean Murray defined the sound of Call of Duty: Black Ops in SONAR. This was his second score in the biggest entertainment series in history, and was enhanced by an 80 piece orchestra that features the talent of leading Hollywood musicians and was recorded at the famed Warner Brothers Eastwood Scoring Stage in Los Angeles.
Sean's scores have hit on every musical genre from the gothic horror of Buffy the Vampire Slayer to hip-hop action in the successful video game True Crime, Streets of L.A. by Activision and Counter Strike: Global Offensive. His music for Call of Duty: World at War has been described by many critics as "some of the best music ever written and produced for video games."
Sean grew up in Santa Barbara, California where he learned the craft of film composing by scoring dozens of student movies for the Brooks Institute Film School. He made his professional debut as composer for the action film Scorpion. Among his many credits are the controversial television series God, The Devil and Bob with James Garner and Alan Cumming, for Carsey-Werner and NBC; and the deeply disturbing psychological-thriller Junkyard Dog starring Vivica Fox.
On a daily basis, Sean continues to write, produce and deliver music for major video games, TV shows and films right from his SONAR studio in the hills of Hollywood.
For more information visit http://www.seanmurraymusic.com