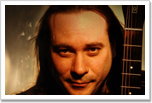 Shawn Clement
Los Angeles, CA ~COMPOSER, PRODUCER
As a decorated composer in a very competitive industry, Shawn Clement gives partial credit to his DAW of choice SONAR for his award winning compositions. Over the years he has written for some of the most popular Television shows in history including "Buffy the Vampire Slayer," "World's Wildest Police Videos," "The World's Most Amazing Videos," among countless others which garnered him a prestigious "ASCAP Film & Television Award."
Using SONAR for all my productions is simply a no-brainer. It's the only platform that allows me to compose such complex productions while delivering the best sounding tracks possible.
In his extraordinary career, composer Shawn K. Clement's success in Hollywood has been fueled by undeniable talent, striking musicality and pure instincts. He has transitioned from an accomplished, respected guitarist and songwriter, to a successful film and TV composer with a distinct, recognizable style and sound.
Clement's music can best be described as compelling, intense and deeply-layered. It contains potent melodies which evoke strong emotion and he continues to prove his exceptional talent for writing unforgettable themes and his versatility as a composer.
For more information visit http://www.clemistry.com/