Dimension Pro for Preset Addicts
With over 1,500 production-ready presets, you can access the perfect sound for almost any project. Dimension features a powerful pairing of sample-playback and advanced synthesis technologies, capable of covering every aspect of contemporary music.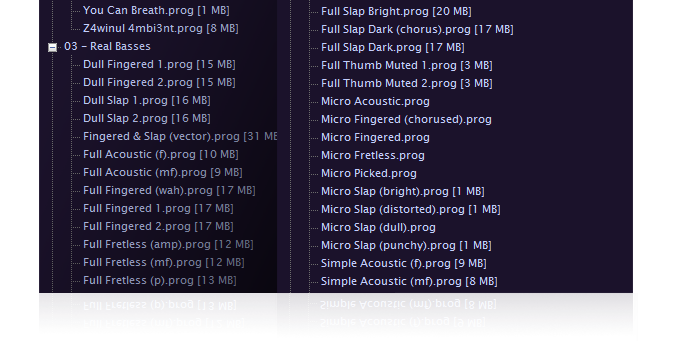 3 GB library
Dimension's library includes tons of thumping bass, grand piano, searing electric guitar, kickin' drum kits, a full orchestral suite, instruments from around the world, and more. The library also explores the worlds of techno, trance and electronica, providing a comprehensive collection of synth leads, electronic basses, lush pads and gripping atmospheres.
Hundreds of sound programs are included in the following Dimension Pro sound banks:
Dimensions (atmospheres)
Pads
Real Basses
Synth Basses
Drums
Percussion
Strings
Guitars
Organs
Electric Pianos
Bells
Leads
Brass
Saxes
Vocals
Layers
Splits
Drum Grooves
Musical Grooves
Techno & Trance
Electronica Collection
Ethnic & World
Garritan Pocket Orchestra
Ochestral Scrapes
Garritan Pocket Orchestra
Cakewalk and Garritan have joined together to offer sound programs based on the critically-acclaimed Garritan Personal Orchestra. The Garritan Pocket Orchestra, included in Dimension Pro, contains samples of all the major instruments in a symphony orchestra—strings, brass, woodwinds, and percussion.
Electronica Collection
Nico Herz of BigTone helped to create Dimension Pro's breathtaking electronica palette. His experience and mastery have yielded an exciting array of synth basses, bold leads, thick stacks, pads, simulations and amazing effects.