Music Creator LE
Music Creator LE is the perfect solution to get started recording quickly that is fun and easy to use.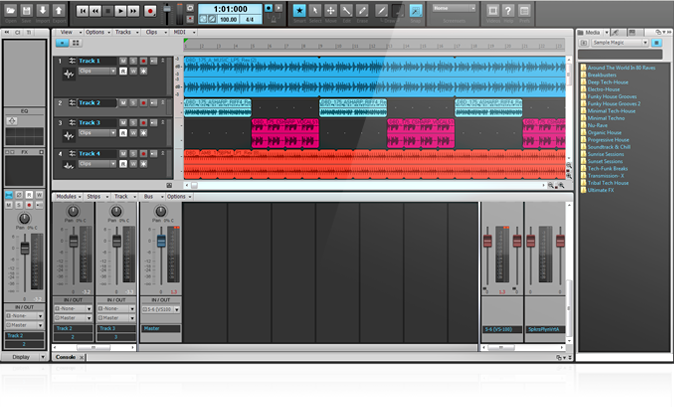 Detail Features
Play and record on 32 tracks for audio
Additional 128 tracks available for MIDI (Music Instrument Digital Instrument) tracks
Professional audio quality (24 bit)
Make backing tracks easily with support for drag and drop music loops (included content may vary)
Use thousands of high-quality instrument sounds through included "virtual" instruments
10 studio effects including an Amplifier Simulator, EQ, Delay, Compressor, Reverb, more
On screen mixer to seamlessly mix all your audio and MIDI tracks
Export your song in CD quality or encode it to share on the web
Feature
Description/Benefit

MC 6 LE

MC 6

User Interface
A brand new look and feel that is ideal for people just starting outt

Yes

Yes

Simultaneous Capabilities
Users always need and want more because it gives them greater flexibility, more sophisticated productions




Simultaneous Audio Tracks



16

32

Simultaneous MIDI



64

128

Simultaneous Effects



24

24

Simultaneous Busses



8

8

Simultaneous Instruments



8

8

Virtual Instruments



1

3

Cakewalk Sampler
Features many presets from Cakewalk's flagship instruments


Yes

Yes

Roland TTS-1
Genuine Roland General MIDI sound module (256 presets)



Yes

Cakewalk SI Drums

Studio Instrument Drums




Yes

Number of Audio Effects


More effects mean more creative sounds

10

10

Maximum Audio Quality
Higher Bit depth and Sample rate mean higher audio fidelity, more natural sound. CD Quality = 16/44kHz

24-bit/
48kHz


24-bit/
48kHz


Internal Audio Engine
Cakewalk's flagship supports 64-bit processing. 32-bit sounds good and uses less CPU

32-bit

32-bit

Creative Tools
Features for creating music

Basic

Good

Editing Capabilities
Editing features

Beginner

Beginner

Mixing Environment
Simple mixer with automation and automation editing

Basic

Basic

Mastering capabilities
Specific effects processing for mastering

None

None

External plug-in support
Ability to use any 3rd party VST Plug-in format synths or effects (Direct-X, VST, ReWire)

Yes

Yes

Estimated Street price



n/a

$39
Optimized for Vista and Windows 7
Cakewalk is the leading maker of music software for the Windows platform. With Windows 7 and Music Creator LE, customers will enjoy great sounding audio and superior performance, even with a built in sound card.