About Audio Creator LE
pyro Audio Creator LE is the OEM version of pyro Audio Creator, available in consumer electronics stores everywhere.

Key Features
NEW! Burn gapless audio CDs to share with family and friends
NEW! Create backup data CDs, DVDs, and Blu-Ray for safekeeping
Get started quickly with video tutorials (available on request)
One-click stereo recording: capture musical performances, meetings, vinyl records, cassettes, pod casts, Internet broadcasts, and more
Easy editing: includes hiss & pop removal, volume control, crossfades, effects, and more
Encode, convert, and save audio to popular formats like MP3*, WMA, WAV, FLAC, and AIFF
Convert audio to formats for use with iTunes®, iPod®, Zune™, and other digital audio players
Tag, rename, and organize multiple audio files all at once
Digitize, clean, and organize your vinyl record and cassette collection
Rip your entire CD collection to a digital format
Instantly download song, album, and artist names for your CDs
And much more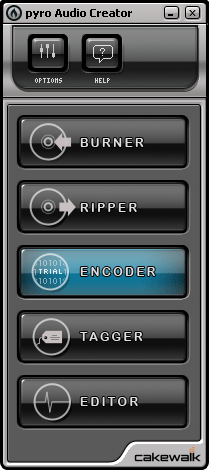 pyro Audio Creator LE's Remote, which is always accessible from the Windows status bar, gives you quick access to the audio tools you need at any time. Here's a closer look at what pyro Audio Creator LE's tools can do for you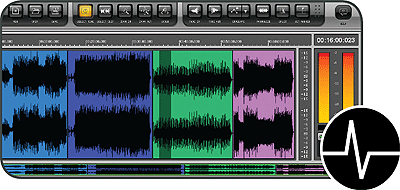 Just click 'record' to capture important ideas, meetings, performances, podcasts, Internet broadcasts—even digitize and clean your record or cassette collection. Edit audio using a powerful 2-track view based on critically-acclaimed SONAR technology: apply effects, crossfades, trims, hiss and pop removal, and more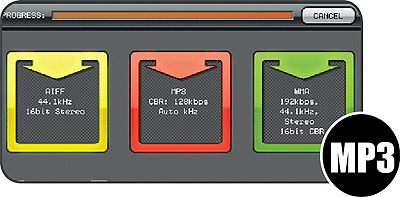 The Encoder is a versatile, task-based tool, allowing you to encode or convert audio files to popular formats like MP3*, WMA, WAV, AIFF, and more. If you need to convert multiple files, just have the Encoder tool process them all at once, saving you lots of time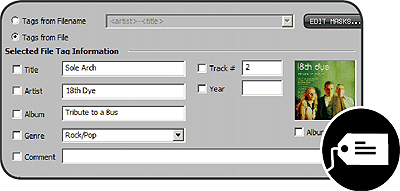 With the number of digital audio files on your system growing by leaps and bounds, it is often hard to get organized or find music. The Tagger tool solves this problem by allowing you to easily label, rename, and edit metadata for better organization of your sound library. In addition, when you import your CD collection, Audio Creator LE can instantly download CD information from the web including song, album, and artist names for better accuracy.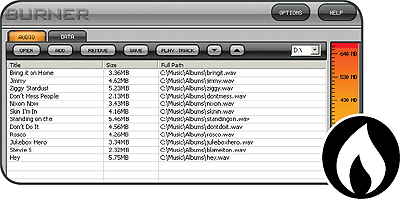 The Burner is one of the easiest CD burning tools you will ever use. With just a few clicks, you can create a track list and start burning CDs. Easily drag and drop files from anywhere in your computer right into the Burner tool. Visual feedback tells you how much time and space you have remaining on the blank CD. Burn audio CDs for friends and family or just back up files to a data CD for safekeeping.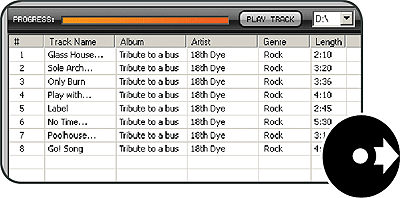 Digitize your entire CD collection using the Ripper tool. Just put in a CD, pick an audio format, and Ripper takes care of the rest. Once you have converted your CD to a digital format, you can use the other great tools in Audio Creator LE to manage your newly digitized collection. Ripped files can be used on portable devices.
* pyro Audio Creator LE includes a 30-day trial version of the Encoder module. After the trial period has expired, users must upgrade to the full Encoder in order to enjoy unlimited MP3 support, drag & drop file transcoding, and automatic file renaming and organization features. Other audio formats, like WMA, Wav, Aiff, & FLAC, are not subject to the 30-day trial period and are available through the Editor and Ripper.