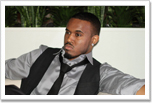 Blade
Dallas, TX ~PRODUCER, SONGWRITER, MUSICIAN
SONAR user Brandon Bowles a.k.a. "Blade" is a platinum selling songwriter/producer/musician/engineer based out of Dallas, TX. He has worked with many stars spanning across different genres such as Nelly, Diddy, Ciara, Yo Gotti and reality TV star Kim Zolciak to name a few. His early years as a rapper quickly turned into beat-production for the simple fact of having something to rap over for himself and his friends. As he settled into his role of a producer, he proved himself over and over again as someone who knew how to put the right elements together to create hit songs.
If it wasn't for the speed and workflow of SONAR's Skylight Interface, I would never have been able to make deadlines producing and writing for Bravo Network's TV show "The Kandi Factory.
Most recently, Blade has been involved in the Reality Television world where he garnered more credibility for his work by producing the bulk of the songs for the Bravo TV show The Kandi Factory?with Grammy-winning songwriter and reality TV star Kandi Burruss. For Blade, it was a challenging experience, because the team had to come up with production and song ideas quickly for each contestant based on their story lines and backgrounds, all while sticking to a tight production schedule for television.
However, this was not Blade's first experience with the world of reality TV. He also created the music for the, now infamous, song "Don't Be Tardy" for former Real Housewives of Atlanta cast member Kim Zolciak. The song went on to become the main theme for Zolciak's "Don't Be Tardy" spin-off show, which is set to launch its fourth season on August 16, 2015 on Bravo.?