CA-2A T-Type Leveling Amplifier
Faithfully modeled after one of the most sought after studio compressors in history, the CA-2A T-Type Leveling Amplifier puts the silky, smooth sound of this highly desirable unit right into any VST compatible DAW.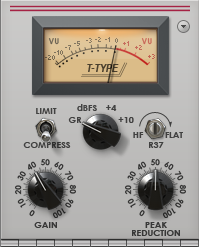 Highlights
Meticulously modeled
Zero latency for real-time tracking and mixing
Up to 40dB of smooth, transparent gain reduction
Frequency dependent compression
Program dependent attack/release
Fully modeled "R37" HF Pre-emphasis control
Dual photocell reset modes (Classic & Fast Reset)
Use side-chain compression for ducking, pumping, and more
Windows: ProChannel, VST2.4, VST3, AAX and ProChannel Module / OS X: VST3, AAX, AU
Level the playing field
Since the 1960s, professional engineers have relied on the unique characteristics of this electro-optical tube-based compressor to work its magic on all kinds of sources, including guitars, bass, pads, and especially vocals. Previously only available to big studios that could afford these all tube units, the CA-2A T-Type Leveling Amplifier lets you wield this legendary sonic weapon in your own studio, on your own tracks. With only a few simple controls, it's easy to use and provides instant gratification with professional results. It features native x64 operation, zero latency performance, and 64-bit double precision audio fidelity. Get the kind of smooth, warm sound heard on so many classic recordings, at a fraction of the cost and with modern convenience.
Modeled to a T
The characteristic sound of the original hardware unit is a result of both its tube design and the famous T4 circuitry – and the CA-2A T-Type Leveling Amplifier meticulously models both. The T4 circuit is made up of an electroluminescent panel partnered with and an optical photocell that, together, determine the the attack and release time - all based on incoming program material. The four tubes in the original hardware unit were also carefully modeled giving the CA-2A its warm character. The tubes slightly change the shape of the signal, adding even and odd harmonics based on the frequency of the incoming program material. We even went so far as to model the user-adjustable "R37" screw on the original unit. Turning the R37 screw controls how much compression is applied to high-frequency content, such as vocal sibilance. Every detail of the original hardware has been carefully considered and incorporated into this stunning software model.
Smooth Operator
Because it's essentially a tube amp with some photo-resistors there is no electronic circuitry involved in the compression process. This simple yet clever design offers flat frequency response and transparent sound with automatic attack and release times that are completely program dependent. Unlike typical dynamics processors that have a fixed compression ratio across all frequencies, the CA-2A T-Type Leveling Amplifier's gain reduction varies at different frequencies. This unique design only reduces gain to a certain point before "giving in" and allowing the output level to naturally increase again. These characteristics play a big part in its smooth and transparent sound and why it is so universally revered as a vocal compressor. But it's equally at home on guitars, bass, wind instruments and any other highly dynamic source material. Silky smooth and easy to use, the CA-2A T-Type Leveling Amplifier is truly a must have dynamics processor.
Side-chaining
In addition to adding support for VST compatible DAWs, the CA-2A T-Type Leveling Amplifier also includes side-chain capability allowing the compressor to react to program material from one track, and apply it to another. This is an improvement that many mixing engineers will find useful for a wide variety of use cases, such as ducking or pumping of synth sounds in EDM.
CA-2A T-Type Leveling Amplifier

Parameter
Control Type
Range
Description
Limit / Compress
Toggle
Limit, Compress
Toggles between compression and limiting (ratio)
VU Meter Mode
4-position switch
GR, dBFS, +4, +10
Sets the VU meter to display either gain reduction, db-Full Scale output, or either of the analog simulated metering modes
R37
Dial
0-100%
Adjusts the gain reduction frequency response
Gain
Knob
0-100%
Adjusts the make-up gain after compression
Peak Reduction
Knob
0-100%
Adjusts the threshold and gain reduction
*LA-2A is a registered trademark of Universal Audio, Inc. Cakewalk's products, specifically, the CA-2A T-Type Leveling Amplifier, is developed by Cakewalk, Inc. based on its own modeling techniques. Universal Audio, Inc. has neither endorsed nor sponsored Cakewalk's products in any manner, nor licensed any intellectual property for use in this product.