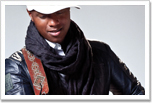 Javier Colon
Hartford, CT ~SONGWRITER, PERFORMER, WINNER OF "NBC THE VOICE"
Javier Colon is one of the timeless singers and musicians of our time. Beyond winning the hit TV show "NBC's The Voice," he has toured around the world captivating audiences on just about every continent sharing the stage with such acts as Maroon 5, Colbie Caillat and Gavin DeGraw to name a few. With the decline of physical CD sales, Javier has carved out an international niche fan base due to his powerful and undeniable live performance; sometimes even with just himself and a guitar. As an artist and family man with high values and professional standards, he has also been involved with many large corporate entities and charities including performances for the military.
The tools in SONAR are like no other DAW. They help to spark creativity while also giving you everything you need to deliver polished tracks.
With a new label behind him, Concord Music Group, Javier is set for a new record due out in 2016 where most of the songs were written using SONAR. "I started using SONAR a while back and was quickly able to start getting down my ideas. Before long, my ideas and demos started sounding better and better sonically, and I was really able to get my message across. A lot of the times now, parts of my demos turn into commercial releases from right out of my home project studio."
For more information visit http://www.javieronline.com/