Active Equalizer
This is a more modern active design made somewhere in the Swiss alps in the seventies. This one has three full bands (Low, Mid and High) with selectable gain (2dB steps) and frequency. The width (Q) can be selected via a switch and each band can be bypassed. It also features High and Low cuts.
Whereas the Passive Equalizer is wide, clear and unintrusive, the Active Equalizer is more of a surgeon with a tight and focused sound. Some people prefer the high band, while others use it to control the mids of a track. The bands can overlap, and unlike normal equalizer plug-ins the notches and peaks overlaps without adding any extra gain to the peak or notch, just like the real analog gear.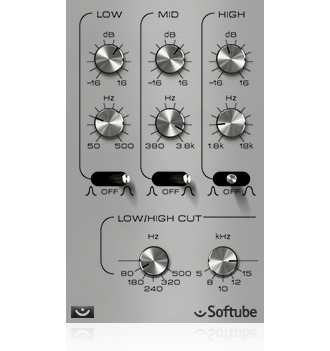 New ProChannel Module version
The analog modeling of the Active EQ brings a new sound and warmth to the Prochannel.
All the frequency controls or the larger VST are available right within the ProChannel with the Active EQ ProChannel Module.
Use the Active EQ to shape the sound of your individual tracks but especially your busses and full mix.
Use the Active EQ module in combination with the PC4K S-Type Buss Compressor to control dynamics and shape the tone of your busses.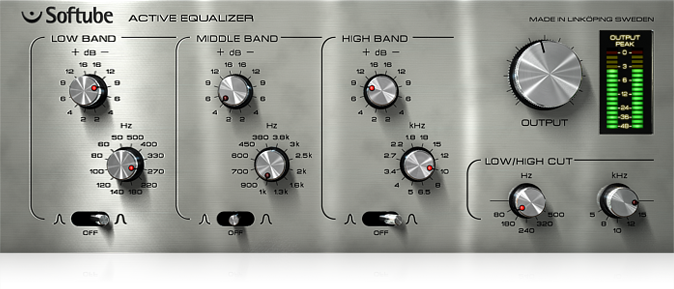 Full VST Version
In addition to the ProChannel Module, you also get the full VST version of the Active Equalizer.
Three Parametric Bands: Three bands, slightly overlapping, with a frequency, gain (+/- 16dB) and a width selector. Each band can be set to OFF as well.
Low: 50 - 500 Hz
Mid: 380 - 3800 Hz
High: 1.8 - 18 kHz
High/Low Cut: 18dB/octave high and low cut filters selectable in six steps, including bypassed cut filters.
Low Cut: 80 - 500 Hz
High Cut: 5 - 15 kHz