FET Compressor
Many "modeled" compressors are nothing more than futile attempts to get an off-the-shelf algorithm to match its hardware counterpart by tweaking a few parameters like the knee and attack/release times. But anyone who has worked with hardware compressors knows that there must be more to it. And there is.
The heritage of analog compressors very much showcases the history of electronics in the previous century. It's the deficiencies of the different designs and components that give each unit its unique character, and what started out as technical limitations have now become sought-after sounds. Simply approximating the most apparent features is not enough to capture this uniqueness. It takes a model of great complexity and accuracy to make a digital replica sound like the original with all settings and inputs.
When creating FET Compressor, Softube set out to make the most accurate emulation of the most famous solid state compressor. Instead of modeling individual features and putting them together digitally, Softube have modeled the unit in its entirety: input and output stages, gain reduction feedback loops, bias differences of different transistors, etc. It's been by far the hardest project Softube have taken on, but they feel that the result speaks for itself. And hopefully it will be easier to do it the next time (yeah right).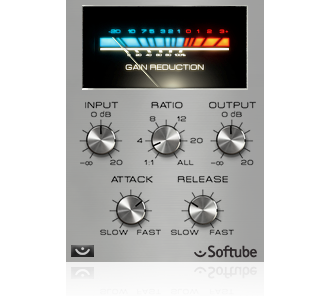 New ProChannel Module version
Softube took their incredible FET Compressor VST and optimized the interface for the ProChannel.
Now you can add an additional FET Compressor with unique character and controls to the ProChannel. The easy to read Gain Reduction meter allows monitoring of dynamics across multiple tracks without opening and managing separate plugin windows.
Place the FET Compressor module anywhere in the signal chain via drag and drop. Due to the incredibly fast attack this FET Compressor is perfect for Slap Bass, Drums, and other percussive source material.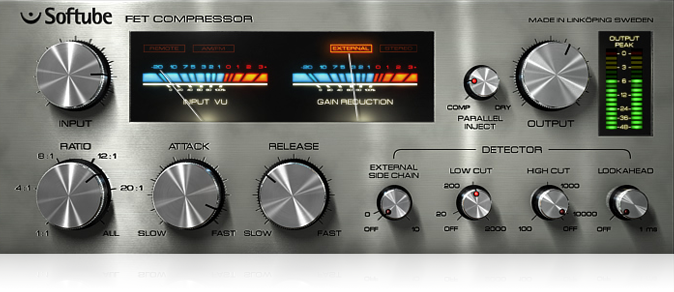 Full VST Version
In addition to the ProChannel Module, you also get the full VST version of the FET Compressor.
Features:
Modeled analog compressor, input and output stages. Modeled everything.
Modeled "All buttons in" mode
Continuous ratio (even between 20:1 and ALL.)
Super fast attack time (just like the original)
Sweet input and output stage distortion.
Parallel compression.
Detector low and high cut filters
External side chain
Lookahead
Stereo with synchronized gain reduction
Very CPU friendly
CONTROLS
Continuous Ratio: Unlike its hardware predecessor, the FET Compressor has a fully variable ratio. But if you prefer the old standard way (with fixed ratios), just click the labels and you're ready to go. And yeah, Softube didn't forget the "All Buttons In" mode.
Parallel Compression: Work with parallel compression from within the plug-in. And since the "Dry" signal also spent some time inside the algos, it's of course influenced by all that analog modeling mojo - like the subtle distortion from the input and output stages.
Super Fast Attack: Faster than you can think of. Even faster than a single sample. And if that's not fast enough, use the look-ahead to make it super duper fast.
Attack: 20 microsecs - 0.8 ms
Release: 50 ms - about a second
Detector Controls: In addition to its hardware counterpart, Softube has added a couple of certainly useful features:
External Side Chain support.
Low and High cut filters for the detector.
Detector lookahead
If you don't want extra features, just leave them in their off position.
Enhanced Metering: Two modeled (and beautifully rendered) VU meters dance with the music, and a stereo peak meter lets you control the output signal.