Passive Equalizer
Modeled from a famous German three-band passive equalizer, it features a wide band width with an unprecedented clear and open sound.
The Low boost gives you a warm low end, perfect to fatten up a bass drum or bass guitar track. Cutting the highs give you a very gentle 6dB cut which allows you to remove some of the unwanted highs without too much intrusion in the sound. The High boost is open and crisp, excellent to live up an otherwise dead track.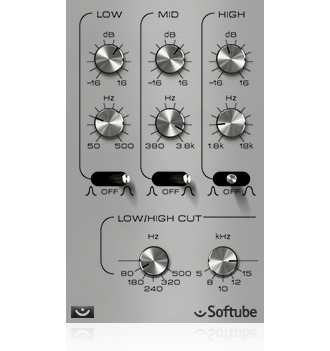 New ProChannel Module version
You have a Great British sound with ProChannel EQ, now add the sound of the famous German three band EQ to the ProChannel. All Frequency and Presence controls are available within the module. Place the Passive EQ module anywhere in the single chain using drag and drop.
If you are working on drum tracks you will appreciate having the Passive EQ in your ProChannel.

Full VST Version
In addition to the ProChannel Module, you also get the full VST version of the Passive Equalizer.
Low Gain: A shelving filter that gives you a fat and warm, and slightly uncontrollable but remarkably open, low end.
High Gain: Open and wide shelving filters with a fantastic sounding brilliance without ever sounding harsh or digital.
Presence: A stepped presence filter, ranging between 700Hz and 5.6kHz with a gain control from 0 to +8dB. The 700Hz position is definitely our favorite when we need to add body to a snare drum!